Balanced water
Cabreiroá water chemistry
Verified by Dr. Oliver Rodés Laboratory (Barcelona, febrary 2014)
Cabreiroá is a balanced mineralized water, as a consequence of its formation in the granitic underground of Ourense.
Cabreiroá efficiently helps to improve hydration and keep an active pace of life thanks to its greater content of silica, an important active component at biological level that makes this water become a source of health and balance for you and yours.
Discover Cabreiroá story
From Orense Mountains to satiating a Nobel Prize thirst
S. XIX
S.XIX
A water born in Galicia depths
Cabreiroá comes to light in Verin, in Orense province, where from the end of XIX century the spring was well known for its mineral water virtues. For years, its fame arrived to the extreme of transforming its amazing surrounding into a pilgrimage destination where you could enjoy pure, fresh and transparent water springing up from earth depths.
S. XX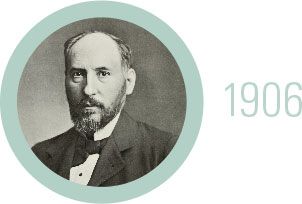 1906
The water of a Nobel Prize and the origin of the bottling plant.
In 1906 Physiology and Medicine Nobel Prize Ramón y Cajal certified the mineral and medicinal value of Cabreiroá water. This together with the spring success favored the area repercussion and caused the construction in 1907 of a hot springs hotel and a bottling plant that would bring Cabreiroá water to any place.
1936
The rough life of the hot springs and the bottling plant growth.
Between 1910 and 1936 hot springs won a great splendor, but the civil war cut it short, and transformed it into a quarters and a hospital. After its later reopening it finally closed its doors in 1961 and, over this time the activity of the bottling plant has been gaining ground constantly.
S. XXI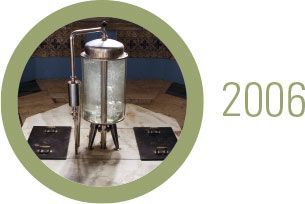 2006
From Galicia to the world, the Rivera family entrance.
In 2006 Hijos de Rivera finally acquired the whole bottling plant and for the last years more than 12 million euros have been invested with a unique goal: to take care and keep the spring with up to date technology aiming to guarantee excellent properties of Cabreiroá waters.
Con motivo de nuestro nuestro 110º aniversario, lanzamos una edición especial, con cuatro botellas de agua mineral dedicadas a cada uno de los elementos que ayudan a dar forma a la naturaleza única de nuestra agua: la lluvia, el cielo, la vegetación y las rocas.